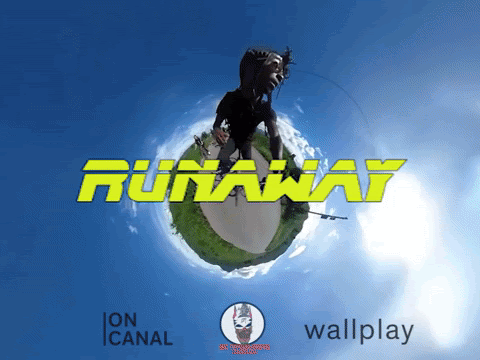 From night markets in Taiwan to rural farmlands in Yunnan, back alleys in Shanghai to studios and backstages in Beijing, the video takes viewers on a glitched-out trip through China's underground music scene. The video takes a bootleg Ready Player One filter, complete with blue screen error crashes and fourth wall breaks. Featuring cameos from established and emerging Chinese generation Z artists, the video profiles the artist's journey through a state-department funded music diplomacy program in 2018 and solo independent tour in 2019.
​
​
​
​
​
​



MC Tingbudong — aka Jamel Mims — launched the project with a multimedia exhibition at Canal street exhibition space Wallplay that combined Mims' own creative and archival work (he did a Fulbright research project on the Beijing hip hop scene in 2008-2009) with work by similarly tuned artists and collectives such as 18 Uppercut, WY Huang, and from Kai Luen Liang. The "Runaway" video is now out as a standalone release. Watch it below, and read on for a quick check-in with the peripatetic, bilingual rapper about his goal of "connecting Chinese hip hop to black, brown and asian communities in Chinatown NYC" with this project:
​
​
​
With daily programming, the exhibition brought into space the sound, vibrancy and diversity of New York City: there were packed houses at the opening and closing parties, and a class visit from NYU's Interactive & Digital Media Program, which included a number of native Chinese first-year students familiar with the artists on the walls. In the midst of the coronavirus and cloud party phenomenon in China, we hosted a Chinatown Cypher, a live recording for Shanghai Community Radio featuring bilingual rappers live from NYC. The exhibition concluded with panel discussion that joined RADII social media strategist Kevin Hsia, artist WY Huang, 18 Uppercut's Pete Gibson, and Shanghai Community Radio's Difan Xu in a discussion about the past, present and future of Chinese youth culture. From the art on the walls to the wide array of participants and programming in the space — the Runaway pop-up was successful in the goal of connecting Chinese hip hop to black and brown youth in NYC's Chinatown.
​
​
​
​
​
​
​
​
​
​
​
​
​
​
​
​
​
​
​
​
​
​
​
​
​
​
​
​
Overall, the Runaway pop-up told a story of internationalism and cultural connection that mirrored the diversity of New York City itself, bringing together an international community between youth culture in the mainland, overseas Chinese, and international youth culture.Black and Latinx otakus and harajuku teenagers take selfies on the couch alongside Chinese students from NYU, or participate in virtual reality workshops; a Chinese immigrant who hadn't returned to China since being in Tiananmen Square demonstrations swaps stories with graffiti writers from the Bronx and independent artists; Harrison, a rapper and b-boy who came through for the cypher, realized we met in Beijing over a decade ago at [now defunct live music venue] Yugong Yishan, and then later we both discover a younger version of himself in one of the pictures on the wall.


Though not explicitly political, by placing work from golden age and contemporary hip hop culture in China, it was both a tribute and a warning: chronicling the story of an evaporating underground culture and the commercial industry built in its wake, a story all too familiar for hip hop-era New Yorkers. It showed a vision of a multicultural society moving beyond the limitations of identity politics and national identity, blending culture in way that could seem bizarre in other places — but is right at home in NYC.


-Radii China Staff